Peter Gilling receives two prestigious awards
3 August 2015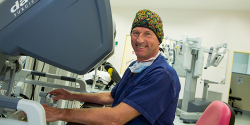 Peter Gilling has recently received with two very prestigious, internationally recognised awards:
A Surgical Research Award from The Royal College of Surgeons. This Award is an honour created to recognise the contribution of a pre-eminent surgical scientist who has made significant contribution to surgical research. The Award will be presented to Peter at the Annual Scientific Congress in Brisbane in May 2016.
The Distinguished Career Award from Societe Internationale d'Urologie. The creation of this award was approved in Stockholm recently and is only the ninth time that it has been presented to a Surgeon. The Award will be presented to Peter at the Opening Ceremony of the SIU Congress in Melbourne in October 2015.
The Bay of Plenty District Health Board acknowledge and congratulate Peter Gilling on receiving these two, well-deserved awards.