Bladder Neck Incision (B.N.I.) and Urethrotomy
This information is designed to help you, your family and friends prepare for your surgery. It will also help you plan how to take care of yourself in the weeks following discharge from hospital.
A bladder neck incision (B.N.I.) and a urethrotomy, are operations for men who have a decreased urinary stream and problems passing urine because of a bladder neck stenosis or a urethral stricture.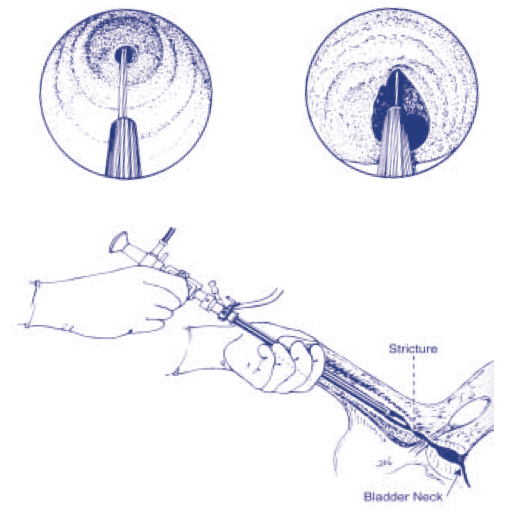 Scarring can occur within the urethra (the canal from which you pass your urine) for various reasons including previous surgery, catheterisation or trauma. Scarring that occurs at the neck of the bladder where it joins the prostate is known as a 'bladder neck stenosis' and scarring within the urethra itself is called a 'urethral stricture'. Both of these forms of scarring cause a narrowing of the urethra, much in the same way a rubber band would if it were placed around the urethra. This narrowing may cause some or all of the following symptoms:
Weak stream
Frequency, (the need to void often)
Urgency, (the need to void in a hurry)
Nocturia (the need to get up at night to void)
Incomplete emptying of the bladder
The aim of both a B.N.I. and the urethrotomy are to cut through these bands of tissue to resolve the narrowing and allow for an improved urinary stream and relief of your symptoms.
The narrowing caused by a bladder neck stenosis or a urethral stricture can cause bladder obstruction that leads to incomplete bladder emptying. Over a prolonged period, the urine build-up within the bladder can over-stretch the bladder and the urine can back log up to the kidneys causing kidney damage, which can have an impact on your general health. Usually however, the operation is needed because of the unpleasant symptoms mentioned earlier.