Ureteric Reimplantation
This information is designed to help you as parents understand your child's condition and prepare for your child's surgery. It will also help to plan how to take care of your child following discharge from hospital.
What is a Ureteric Reimplant and why is it needed?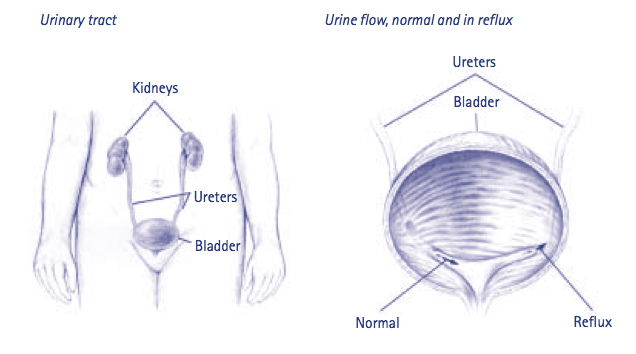 Your child has been diagnosed with vesico-ureteric reflux ("reflux"). This is a condition that allows urine to reflux (flow back up) the ureter to the kidney when the pressure in the bladder is increased. This is graded 1 – 5, with one being very minor and 5 being very severe. Grading is done on the basis of the findings at the cystogram, the x-ray procedure where dye is put into the bladder and observed entering the ureters and kidney. Children with reflux are susceptible to urine infections, which can lead to kidney scarring and damage or in more severe cases, the ureter and kidney becomes large, distorted and inefficient.