Laser Prostatectomy
This information is designed to help you, your family and friends prepare for your surgery. It will also help you plan how to take care of yourself in the weeks following discharge from hospital.
A laser prostatectomy is an operation for men who have problems passing urine because of an enlargement of the prostate gland. The prostate is a small but important gland in the male reproductive system. Its main job is to produce seminal fluid which protects and enriches the sperm. The prostate gland sits just below the bladder and surrounds the neck of the bladder and the beginning of the urethra (the canal from which you pass your urine).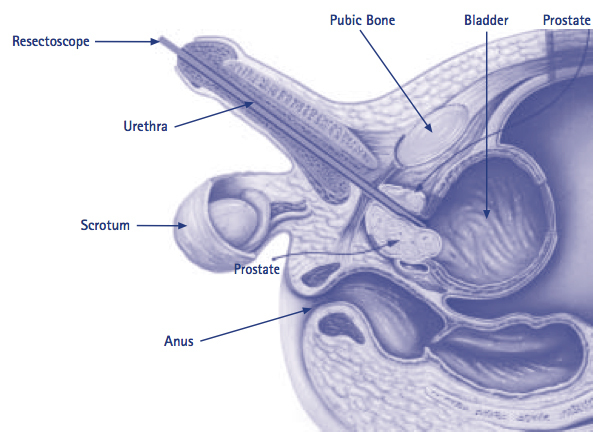 The cause of prostate enlargement is unknown but it appears to be due to changes in the levels of hormones in the blood in the aging male. When the prostate tissue enlarges inward it squeezes on the urethra causing some or all of the following symptoms:
Frequency, (the need to void often)
Urgency, (the need to void in a hurry)
Nocturia (the need to get up at night to void
Weak stream
Incomplete emptying of the bladder.
The aim of the laser prostatectomy is to remove the prostate tissue which is causing the blockage, so you get relief of your symptoms.
If your prostate gland is squeezing on the urethra and causing obstruction, your bladder may be unable to empty itself completely. Over a prolonged period, the urine build-up can over-stretch the bladder and occasionally the urine can prevent the kidneys from draining properly.
This can lead to kidney damage and can have a large impact on your general health. Usually however, the operation is needed because of the unpleasant symptoms mentioned above.